DOG WALKING AND PET CARE
"Five treat service!"
For most of us with furry family members, leaving them behind at the house can be stressful. You know you're coming back, but Fido isn't so sure — at least, not according to the carpet he just chewed up.
Don't get your leash in a tangle worrying, though! At Huggable Muggs®, we're pet expurrrts that love caring for your favorite little troublemakers from the comfort of YOUR own home. We're talking walks, food, playtime, and more (no one has beat us yet at tug of war, but we're still accepting challengers).
Curious about the fabulous services we offer? Place your paw here (or click, if you're a human) for more info.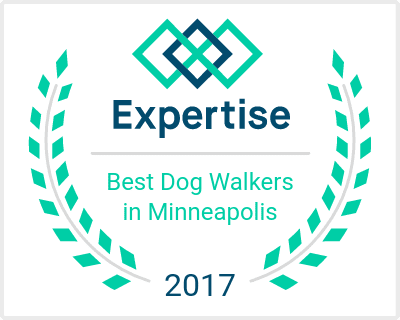 Professional dog walking and pet sitting services serving south of the river, Apple Valley (55124), Bloomington (55420, 55425, 55431, 55435, 55437 & 55438), Burnsville (55306 & 55337), Eagan (55121, 55122 & 55123), Farmington (55024), Lakeville (55024, 55044 & 55068) & Rosemount (55068), Minnesota.
Huggable Muggs® is insured through State Farm.
Walkin' the Dog
Do we love walking your pooch when you're out of town? Of course! But you don't have to take a trip to treat your leash-loving pup to a walk from one of our Fantabulous Dog Walking Specialists. (You can even lounge on the couch while we stroll. We won't tell!)
Doggies love routines, and so do we. Same time, same place, same walk? We love daily walks just as much as your curious canine.
Humans-only vacation? No problem.
Suitcase? Check. Plane ticket? Yep. Pet sitter? Oops…
Don't worry — whether you're gone for two days or two weeks, keeping your buddy happy (and your home intact) is our specialty.